Nativity Replacement Baby Jesus Crib

Product Number/Desc:

Replacement Baby Wood Crib GF  C5540RWC

general foam plastics corp norfolk va 23502 empire of carolina enterproses inc tarboro nc 27886


All products subject to availability, regardless of what our shopping cart allows.

NO GUARANTEES HERE-IN. Contact us if you have any questions prior to ordering. This item may be available year-round. Please
ask us
first before ordering if you so desire.
Price in shopping cart may reflect additional shipping charges imposed by the shipping carriers.

Our reservation policy may apply. PLEASE TAKE A MOMENT TO READ IT. THANK YOU.

Please do not order if you live outside of the U S Mainland, as we do not ship to non U S Mainland destinations.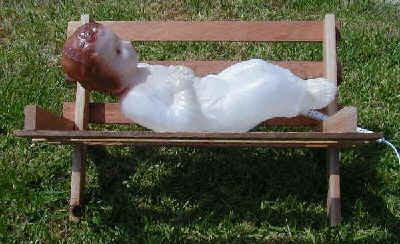 Replacement Real Wood Crib (plastic crib not shown). This Baby Jesus shown above is intended for use with item number
GF C5540
. How-ever, it can be use with most other Nativity scenes. Like
GF C4760
and
GF C3680
. C7 bulb and cord included. Please Note: Real Wood Crib is made by local High School Students. Cribs are NOT perfect, but very very good in our opinion.
WARNING!

Crib Uses Small Parts For Assembly and Pose A Choking Hazard To Small Children.

Please Read Disclaimer Below.

Choking Hazard Disclaimer - We make every effort to note the age appropriateness of  this product. This product IS NOT recommended for ages under 9. It HAS NOT been tested by us for possible choking hazards were determined meet applicable safety standards and to be appropriate for young children. You should consider all other products, including any unrated as this one, to be a potential choking hazard and therefore inappropriate for young children. If you have any question whatsoever about whether or not a product is restricted or is age appropriate, please email your inquiry to us at choking_hazard@seasonsLA.com prior to purchase and/or use. For your child's safety, as well as for good enjoyment value, please do not buy any product that may be inappropriate in design or content for your children OR childrens use. By doing so, you may void any manufacturer or retailer product liability.

general foam plastics corp norfolk va 23502 empire of carolina enterproses inc tarboro nc 27886

PURCHSE OF THIS ITEM IS AT BUYERS FULL RISK. BUYER ASSUMES ANY AND ALL RESPONSIBILITY ARISING FROM THE USE OF THIS PRODUCT. SEASONS LA AND/ OR AFFILIATES, ASSOCIATES AND/OR ANY OTHER REALTION TO THEM, WILL NOT AND SHALL NOT BE HELD ACCOUNTABLE FOR ANY DAMAGE(s) IN REALATION TO THE USE OF THS PRODUCT, EITHER ACCIDENTAL OR INCIDENTAL, REGARDLESS, INCLUDING, BUT NOT LIMITED TO DEATH FROM THE PURCHASE/USE OF THIS PRODUCT.

If the buyer disagrees, item should not be purchased. Without prejudice.

<!-onMouseover Link CSS Script-© Dynamic Drive (www.dynamicdrive.com). For full source code, installation instructions, 100's more DHTML scripts, and Terms Of Use, visit dynamicdrive.com-->
DUE TO THE NATURE OF THESE SEASONAL ITEMS, WE MUST INSIST THAT "NO GUARANTEES" BE MADE OF A DELIVERY DATE ON "ANY" PURCHASES FROM OUR SITE. THANK YOU FOR YOUR UNDERSTANDING.

ALL SALES FINAL.