Pumpkin Goblin

Product Number/Desc: UPI 55820 Pumpkin Goblin with sign,

plastic light up halloween decoration's by Union Products Inc of Leominster MA 01453. Plastic light up outdoor halloween yard decorations.

Preferred supplier...

year after year.


Please DO NOT order from this shopping cart if you reside outside of the US Mainland, as we only ship within. NO GUARANTEES HERE-IN, REGARDLESS OF WHAT OUR SHOPPING CART ALLOWS.  Please e us with any questions if you so desire prior to ordering.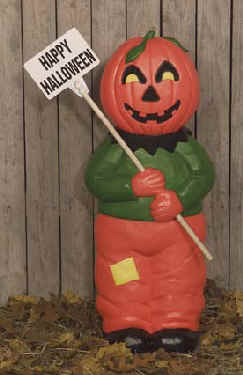 Union Products Inc Leominster MA 01453. Halloween decoration's.

Awesome! Just simply awesome and out of this world. Here we have a 30" tall Halloween Pumpkin Goblin that lights up. He is madeof hollow plastic and is painted. His sign is two sided and sits on the dowel. This item is also know as a blow mold. get your outdoor Halloween decoration's while they last! Thanks for looking!